24" Retro Bottom Mount Refrigerator
CHAMBERS APPLIANCES CRBR2412-RR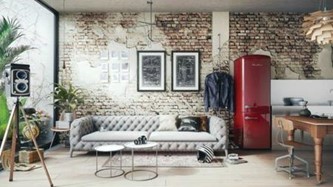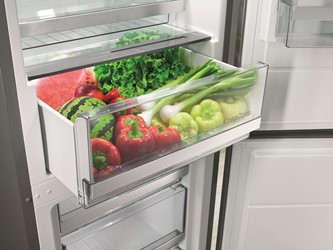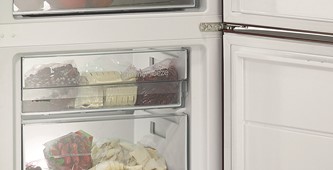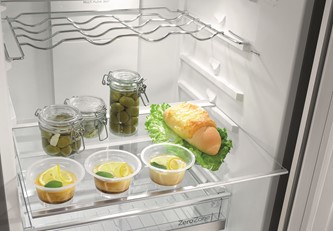 List Price:

$2,999
Price:

$2,999
Extended Warranty
$370
Total Price:
Add to compare

Add to wishlist
Available Colors
Details & Features
Features:
ION GenerationIon generation gives Chambers an edge over other elite refrigerator brands on the market today. In addition to the highest quality design and next-generation materials which lend every Chambers refrigerator its upscale appearance, technical and functional improvements like ion generation create the best possible climate inside the appliance – which, after all, is central to the performance of a high-end refrigerator. One such advanced refrigeration solutions are IonAir technology, which perfectly imitates the natural process of ionization, making for constantly refreshed refrigerator air that defies staleness and odors. Driven by an intuitive sensor system which tracks user habits to maintain a constant temperature and ideal climate for different foods, top of line ventilation systems allow for complete circulation of refreshed air throughout the entire appliance, bringing freshness to every nook and cranny – a state of the art adaptive technology that is unsurpassed on the market. With ion generation, nature meets tech… and the results are magnificent.
IonAir with MultiFlow 360°Climate control in every section. Imagine each refrigerator shelf maintaining its own microclimate, perfectly adapted to the food it stores. Advanced technology makes this possible through a unique ionization process that keeps foods at constant, optimum temperatures and humidity levels. The refrigerator continuously generates negatively charged ions that are evenly distributed via the MultiFlow 360° ventilation system, which employs more than a dozen ventilation slots to circulate the ionized air, creating an ideal environment that keeps foods fresher, longer.
NoFrost PlusFrost free is just the beginning. A superior cooling system in the freezer compartment prevents the accumulation of ice and frost, which reduces power consumption, while in the refrigerator, sophisticated cooling technology maintains an ideal micro climate for perishables. Foods retain their moisture and nutritional value and resist spoilage.
AdaptTechForward-thinking technology that anticipates your needs. A refrigerator that listens? Yes. AdaptTech learns to recognize your habits by monitoring and analyzing how you use your refrigerator. Then, it maintains the ideal temperature in the refrigerator regardless of how often the fridge is accessed, offsetting the thermal shock that foods suffer when exposed to warm exterior air from an open door. Predictive, progressive AdaptTech lowers the refrigerator temperature before you open the door, ensuring a stable climate and fresher food.
Deep door bottle shelfFreedom from awkward, space-wasting layouts is just around the corner – in the refrigerator door, which is designed with generous storage to accommodate the largest glass and plastic bottles and shields them from jostling and damage when the refrigerator is accessed.
CrispZone drawer featuring HumidityControlEnjoy the fresh-picked taste. The CrispZone bin provides more space for fruit and vegetables than most other crispers on the market. Features include lower temperature and the ability to customize the humidity level to extend the freshness of fruits and vegetables.
SuperCoolCools food fast after shopping. This cutting-edge cooling function drops the refrigerator temperature rapidly to ensure foods cool down to appropriate temperatures fast when the fridge is newly stocked – like right after a major weekly shopping trip.
XXL SpaceBoxEntertaining the gang? No problem. The ultimate freezer storage compartment would have enough room to store a whole turkey for a holiday feast. The XXL SpaceBox can do that and more – so stocking up on pizzas, cakes and frozen prepared meals has never been easier.
SimpleSlide ShelvesRoom for jars, bottles, and drinks, too. Like an adjustable shelf, only without the hassle, SimpleSlide shelves move up and down whenever you want them to – so they adapt to whatever sizes of cans, bottles or jars you happen to have in the fridge at the moment.
XtremeFreeze drawerFlash freezing to keep food at its peak. Perfect for prime cuts of meat and other foods that absolutely must retain their flavor, color and nutrients, the XtremeFreeze drawer allows for rapid shock-freezing at extremely low temperatures.
Inverter CompressorThe evolution of compressors. The inverter compressor is an enhanced compressor with highly developed functions that represent a great improvement over the conventional compressor – lasting longer, using less energy, and running far more quietly than traditional models. This intuitive model quickly and effectively drops the temperature whenever the door is opened in order to extend the freshness of the food.
ZeroZone DrawerPreserve the flavors of the sea. With a constantly maintained temperature of 0 °C, this drawer is ideal for storing fresh meat, fish and seafood, keeping delicate proteins fresh, juicy and flavorful.
A+++Nothing is more energy efficient. All Chambers refrigerators feature superior thermal insulation and enhanced door sealing, eco-friendly inverter compressors, and technological improvements that reduce power consumption. A refrigerator that can boast the A+++ energy efficiency rating uses 60% less power than those in the A class.
FastFreezeFast freezing function is perfect for rapidly bringing quantities of food from cold to frozen at consistent temperatures.
*While we place great care into preparing product descriptions and prices, sometimes technical and typographical errors or omissions may occur. Tasco Appliances cannot be held responsible for such errors and we apologize for any inconvenience this may cause.