LG Ultra Large Capacity TurboWash Washer and TruboSteam Dryer
MSRP:

$3,299

SALE Ends December 11, 2019:

-$1,200

Energy Savings Rebate:


*25% on the purchase price and maximum $500 per appliance Ontario Residents only

-$524
Tasco's Sale Price:

$1,575
Extended Warranty
$364
Total Price:
Laundry Package:
7.4 CU.FT Front Load Dryer With Turbosteam DLEX4370K
5.2 Cu. Ft. Ultra Large Capacity Turbowash® Washer With Nfc Tag On WM4370HKA
LG Ultra Large Capacity TurboWash Washer and TruboSteam Dryer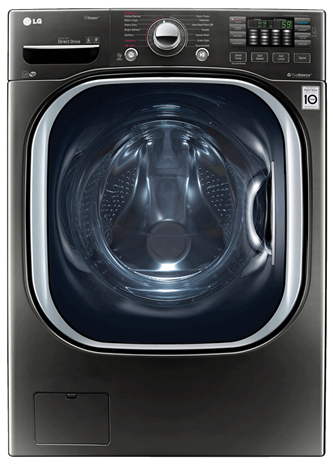 5.2 Cu. Ft. Ultra Large Capacity Turbowash® Washer With Nfc Tag On
Learn More
Details & Features
TurboSteam Technology
LG TurboSteam technology to the rescue. Toss the shirt in the dryer, turn on TurboSteam and in just 10 minutes your shirt is back in tip-top shape. Also helps refresh fabrics and reduce wrinkles in half the time of other steam settings.

Accurate Drying
LG's Sensor Dry System measures the moisture levels during the cycle and automatically adjusts the drying time, assuring you get dry laundry every time.

NFC Tag On
Easily change and customize cycles with a simple tap of a smart phone app. Can't find a cycle you need? There's an app for that. Your laundry just got a little bit smarter.

The Quick Fix
Late for the party and no time to iron your favourite outfit? The SteamFresh Cycle refreshes and reduces wrinkles in up to five garments at a time with one 20-minute dryer cycle.

Refresh and Sanitize
SteamSanitary Cycle refreshes and sanitizes dry items in the steam dryer. The SteamSanitary Cycle kills bacteria on your clothes and is great for decorative pillows and other non-washable items.

Call, Connect, Resolve
SmartDiagnosis uses self-diagnosing technology that can communicate 24/7 with LG customer service over the telephone providing you with comfort and reliability.
Tech Specs
BASIC
Capacity
7.4 cf ft
Sensor Dry
Yes
TurboSteam
Yes
CONTROL
Dial-A-Cycle
Yes
Display Panel
Dual LED
Sensor Dry - PROGRAMS
Cotton/Normal
Yes
Perm Press
Yes
Towels
Yes
Delicates
Yes
Heavy Duty
Yes
Bulky/Large
Yes
SteamFresh
Yes
SteamSanitary
Yes
Anti-Bacterial
Yes
Sports Wear
Yes
Download Cycle
Yes
Manual Dry - PROGRAMS
Speed Dry
Yes
Freshen up
Yes
Air Dry
Yes
OPTIONS
More Time
Yes
Less Time
Yes
Custom Program
Yes
Damp Dry Signal
Yes
Wrinkle Care
Yes
Child Lock
Yes
Reduce Static
Yes
PGM Save
Yes
Drum Light
Yes
Energy Saver
Yes
Pedestal
WDP4K
Pedestal (WxHxD)
27" x 14 1/8" x 28 2/5"
Stacking Kit
KSTK1
TurboSteam
Yes
Default On/Off
Yes
LEVEL ADJUSTMENTS
Temperature Levels
5
Drying Levels
5
Dry Time
60, 50, 40, 30, 20 min, More-Less
Signal volume level
4
CONVENIENCE FEATURES
End of Cycle Signal
Yes
LoDecibel
Yes
Drum Light
Yes
Reversible Door
Yes
FlowSense Duct Clogging Sensor
Yes
Venting Option
4 Way
Leveling Legs
4 Adjustable Legs
Remaining Time Display/Status Indicator(s)
Yes
3 Min Install Check
Yes
THINQ TECHNOLOGY
SmartDiagnosis
Yes
NFC Tag On
Yes
ENERGY
Energy Star Compliant
Yes
MATERIALS AND FINISHES
NeveRust Stainless Steel Drum
Yes
Cabinet
Painted Steel
Control Panel
Plastic
Top Plate
Painted
Door / Rim
Glass / Chrome
Door Cover
Dark Blue Tinted Round Cover
POWER SOURCE
Ratings
CSA Listed
Electrical Requirements
240V 30Amps
Type
Electric
BTU
20,000
DIMENSIONS
Product (WxHxD)
27" x 38 11/16" x 30" (51" D with door open)
Carton
29 7/10" x 43 1/5" x 31 3/10"
Weight (Product/Carton)
146.8lbs / 148.4lbs
WARRANTY
Parts & Labor
1 Year
UPC Code
772454068249
Details & Features
Separate Wash
TWINWash is a washing solution that has never existed before. It is all about efficiency, helping you get more clothes cleaner in less time by washing two separate loads simultaneously.

Small Load with Delicate Wash
LG SideKick is the perfect size for hand wash or delicates. No need to wait - you can run small loads as often as you like to stop laundry from piling up.

Add Item
If you miss to put laundry during washing, just press "Pause" and add any laundry from small socks to big jacket. Whichever washing cycle you selected, door can be opened* immediately(about 3 sec)** during washing.

Laundry at the Speed of Life
TurboWash's combination of quick soaking water spray and filtration motion means washing time can be reduced to just 29 minutes, but with an improved powerful wash performance.

Optimal Wash for Fabrics
Select a wash program and 6 Motion Direct Drive technology moves the wash drum in multiple directions, giving fabrics the proper care while getting clothes ultra clean.

Less Vibration, Less Noise
Not just one but two high-efficiency Inverter Direct Drive motors enhance washing performance and durability but without the noise and vibration. Plus, the motors dissipate less energy, reducing electricity consumption.

NFC Tag On
Tag On lets users download new wash programs to a smartphone, such as Wool, Baby Care or Cold Wash. Tap the NFC Tag On symbol to install the program on the machine.

Compatibility
LG TWINWash is available with a variety of designs, colors and functions to suit your lifestyle and interior design needs. Choose a model according to your preferences.

Pre-Installation Checklist
1. For TWINWash installation, it needs 750mm x 1,800mm x 1,350mm (W x D x H) at least. 2. To plug in a TWINWash , it needs two grounded outlets at least. If you need to extend the connection cord by using multi-tap, it also should be grounded. 3. We recommend to use over 15A circuit breaker for stable operation. 4. In case of some models having drain pump, it needs 32mm diameter when using STANDPIPE to install drain hoses. 5.We recommend to supply 1 bar water pressure at least to wash the laundry without time delay.
TurboWash® Technology
Steam Technology
6Motion Technology
ColdWash Technology
Tech Specs
TYPE
Black Stainless
Yes
BASIC
Capacity (IEC)
5.2 cu ft
ColdWash
Yes
Internal Heater
Yes
Steam
Yes
Max. RPM
1300
TurboWash®
TurboWash® 2.0 (29 mins)
Yes
CONTROL
Dial-A-Cycle
Yes
Display Panel
Dual LED
WASH PROGRAMS
No. of Programs
14
Wash Programs
Normal, Perm. Press, Heavy Duty, Delicates, Towels, Speed Wash, Drain+Spin, Bulky / Large, Tub Clean, Bright White, Sanitary, Allergiene , Hand Wash/Wool, Downloaded
No. of Options
11
Options
TurboWash ® , Steam, Fresh Care, Prewash, Delay Wash, Extra Rinse, ColdWash , Child Lock, Add Garments, Rinse+Spin, Drum Light
5 Wash/Rinse Temperatures
Extra Hot, Hot, Warm, Cold, Tap Cold (All Cold Rinses)
5 Spin Speeds
Extra High (1300 max), High, Medium, Low, No Spin
No. of Water Levels
Automatically adjusts to the size of load
No. of Soil Levels
5
LEVEL ADJUSTMENTS
Spin Speed
5
Soil Level
5
Wash/Rinse Temperature
5
All Cold Rinses
Yes
Signal volume level
5
CONVENIENCE FEATURES
TrueBalance Anti-Vibration System
Yes
4 Tray Dispenser
Yes
LoDecibel Quiet Operation
Yes
End of Cycle Beeper
Yes
LoadSense
Yes
Auto Suds Removal
Yes
Forced Drain System
Yes
Easy Loading TilTub
Yes
SMART THINQ TECHNOLOGY
SmartDiagnosis 3.0
Yes
NFC Tag On
Yes
ENERGY
Energy Star Compliant
Yes
IMEF
2.83
IWF
2.9
CEE Tier
2
MOTOR
Motor Type
Inverter Direct Drive
Motor Speed
Variable
Axis
Horizontal
MATERIALS AND FINISHES
NeveRust Stainless Steel Drum
Yes
Cabinet
PCM
Control Panel
Plastic
Top Plate
Painted
Door / Rim
Glass / Chrome
Door Cover
Dark Blue Tinted
Door Opening
16.93"
POWER SOURCE
Ratings
UL Listed
Electrical Requirements/Type
120V, 10 Amps/Electric, 60Hz
OPTIONS
Pedestal
WDP4K
Pedestal (WxHxD)
27" x 14 1/8" x 28 2/5"
LG Sidekick Pedestal Washer
WD100CK
LG Sidekick Pedestal Washer (WxHxD)
27" x 14 1/8" x 30 3/4" (50 1/2 with drawer open)
Matching Washer
DLEX4370K
Stacking Kit
KSTK1
DIMENSIONS
Product (WxHxD)
27" x 38 11/16" x 29 3/4" (51" D with door open)
Carton
29 1/2" x 43 5/16" x 31 5/16"
Weight (Product/Carton)
202.8 lbs/224.8 lbs
WARRANTY
Parts & Labor
1 Year
Motor
10 Years
Drum
5 Years
Available Colors
Black STS
UPC
772454067846